Master thesis: Removal of Weld Oxides
The research institute Swerim provides applied research within mining engineering, process metallurgy and materials and manufacturing engineering, mainly for the mining, steel and metals industry. Swerim has 200 co-workers in two locations in Sweden - Luleå and Stockholm.
Master thesis: Removal of Weld Oxides
Welding stainless steel creates an oxide film (heat-tint) on the surface and around the joint. The heat-tint is orders of magnitude thicker than the stainless steels passive film that in general is protecting the steel from corroding. Weld oxides influence the corrosion resistance of stainless steel, and chemical pickling and/or abrasive mechanical processes are often used to remove them. Chemical pickling methods are hazardous, both for the environment and the operator, especially during in-field assembly or repair work where pickling paste is commonly used.

There are newer options for post weld cleaning on the market, including electrolytical cleaning (electrochemical) and cleaning with laser (laser ablation). These modern techniques are of high interest to the industry, as evident from the companies participating in the larger project of which the master thesis is a part. The master thesis will be an excellent opportunity to tie contacts with different companies from research, material suppliers, energy sector, welding companies to equipment suppliers.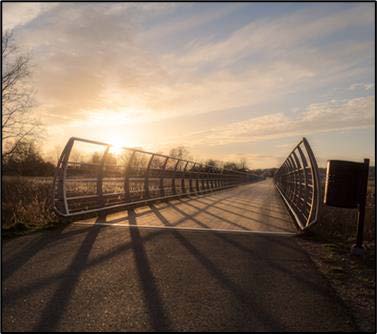 Stainless steel bridge in Sölvesborg, Sölvesborg Stål & Rörmontage

Scope
The master thesis will consist of both theoretical research and practical analysis of corrosion properties of welded joints. The practical work will include removal of weld oxides, microstructural and image analysis, as well as investigation of corrosion properties. Moreover, the student will have an opportunity to present their on-going work to the project group by participating in regular meetings. The work will take place in the facilities of Swerim in Kista utilising the high standard labs in a research environment.

Your profile
We are looking for someone currently studying their final year of a master's degree in engineering. Suitable engineering fields include chemistry and material science or similar. An interest in surface corrosion is merited. You should be thorough, have an analytical mindset and communicate well in English.

Further information
Swerim rewards the student with 50 000 SEK for an approved master thesis (30hp).  
 
The work will be initiated preferably in October or November 2023.
 
Contact
For further information about project, please contact: 
Klara Trydell, klara.trydell@swerim.se

Application
Apply by using the application function below by October 2, 2023. Please note that we fill the thesis as soon as we find a suitable applicant, which means we can fill the position before the deadline. You will receive a confirmation that Swerim has received your application. The work should be initiated during the beginning of 2024.
Application
Apply quickly by entering your email below and select Continue.
You can no longer apply for this position