Master thesis: Innovative Agglomerate for Next Generation Iron and Steel Making
The research institute Swerim provides applied research within mining engineering, process metallurgy and materials and manufacturing engineering, mainly for the mining, steel and metals industry. Swerim has 200 co-workers in two locations in Sweden - Luleå and Stockholm.
Master thesis: Innovative Agglomerate for Next Generation Iron and Steel Making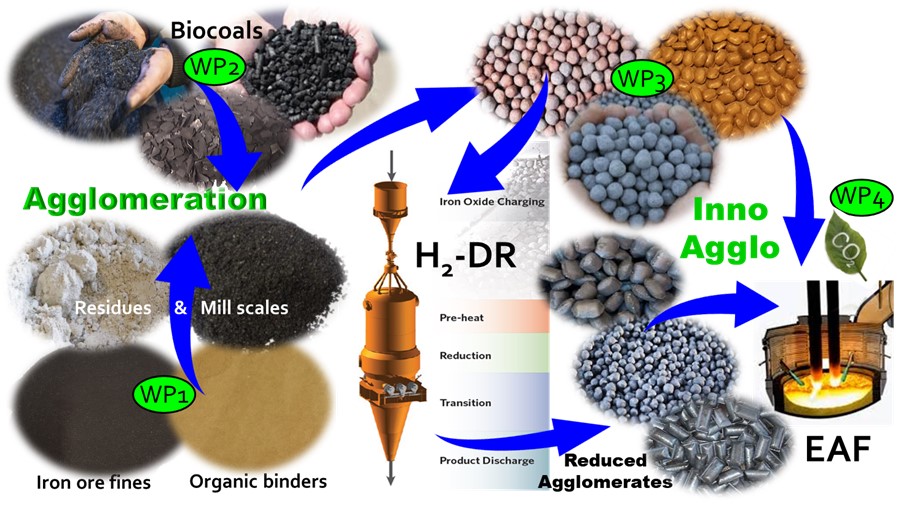 Background
The Metallurgy Department at Swerim in Luleå is looking for a Master Student to work with the group Resource Efficiency and Environment. The master student, together with senior researchers, will conduct master study within the scope of InnoAgglo project ​​"Developing Innovative agglomerates for next generation iron and steel making technology". The master study will be part of the ongoing InnoAgglo project relevant to use innovative binders and biocarbon instead of traditional binders and fossil carbon in the agglomeration of iron ore and steel mill residues. The InnoAgglo project is a collaboration project between Swerim, Luleå University of Technology and several associated partners. The project is funded by FORMAS.

Project description
The purpose of the project is to design and develop innovative agglomerates to meet the next generation iron and steel making technology using hydrogen as reducing agent but also fits with the existing ironmaking technologies based on coke to reduce the fossil CO2 emissions. The main goal is to replace the traditional binder with novel organic binders and to introduce biocarbon to develop self-reduced agglomerates enable full recycling of steel mill residues. Research will be conducted to gain knowledge and deep understanding of the agglomeration of iron ore and residues using innovative binders and to evaluate the quality of such agglomerates for implementation in H2-based ironmaking technology.    
 
The project will be based on literature survey on binders and its implementation in the agglomeration, review of methods and agglomeration techniques, and experimental design of agglomerates in lab scale followed by characterization and evaluation. The project will be run in close collaboration with our academic partner at LTU and potential industrial partners from iron ore supplier, binder developers and biocarbon producers.
 
Duties
As a Mater student you are expected to share in experimental and theoretical work within your master study and conduct the required analysis and discuss the results with your supervisors. The research may include experimental work in the form of material preparations, agglomeration, reduction and melting trials at high temperatures in lab scale, thermodynamic calculations and characterization of materials using various analytical equipment including XRD, SEM, LOM, etc.
 
Qualifications
We are looking for you that are at the end your Master of Science studies at one of Swedish Universities, preferably with background in metallurgy and knowledge in sustainable mineral and metal extraction, chemical engineering, materials technology, or chemistry would be preferable. We want you to be able to take own initiatives, be comfortable with addressing challenging problems, and have good communications skills in both written and spoken English.
 
Location and time
The thesis work will be performed at Swerim in Luleå with a proposed start in Feb/March 2023. Performing master thesis work at Swerim will give you the experience of working as a researcher in a stimulating environment with modern laboratories, in a team with skilled researchers developing tomorrow's technologies for industry. Swerim rewards the student with 50 000 SEK for an approved master thesis (30hp).

Contact
For further information about the master study, please contact:
Dr. Elsayed Mousa, +46 702100165, elsayed.mousa@swerim.se
Application
Apply quickly by entering your email below and select Continue.
You can no longer apply for this position