Master Thesis: Advanced Visualization of a Digital Twin for Continuous Casting
The research institute Swerim provides applied research within mining engineering, process metallurgy and materials and manufacturing engineering, mainly for the mining, steel and metals industry. Swerim has 200 co-workers in two locations in Sweden - Luleå and Stockholm.
Master Thesis: Advanced Visualization of a Digital Twin for Continuous Casting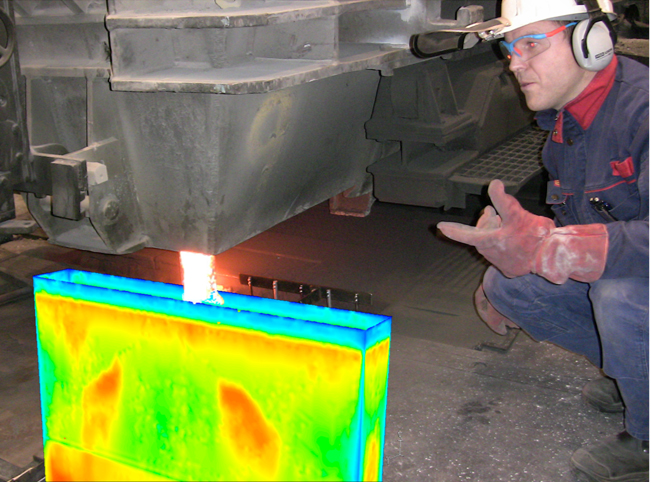 The trend of digitalization in manufacturing (e.g., Industry 4.0 and Smart manufacturing) demands the steelmaking industry to adapt quickly to new technologies such as VR (Virtual Reality) and AR (Augmented Reality). To satisfy the clear need from the steel industry for this trend, Swerim has developed a Digital Twin technology for continuous casters. This virtual replica allows a better understanding of the process as well as facilitating Research and Development. The current MSc. Project is based on developing AR and VR tools to communicate simulation results for multiphase flow, heat transfer, solidification as well as cavitation and Electro-magnetics.  
Required qualifications
The student should be interested in Computational Fluid Dynamics (e.g. ANSYS Fluent), CAD drawing, Data Processing, Visualization of results and Programming. A good knowledge of flow mechanics, turbulence and transport phenomena is desirable.
Students are expected to benefit from familiarization with industrial research projects including discussions with researchers and technical staff as well as communication with international partners including visits to steel plants and suppliers. The results are part of multi-national European projects and projects with local steelmakers and Swerim provides a state-of-art computational cluster and 3D projector for visualization.  
Project timeline:




Further information

Swerim rewards the student with 50 000 SEK for an approved master thesis (30hp).  


Application

Apply by using the application function below. 
You will receive a confirmation that Swerim has received your application. 
Please note that we fill the thesis as soon as we find a suitable applicant, which means we can fill the position before the deadline.

The work is planned to start 
 January 2, 2023 at Swerim in Luleå.


Contact

For further information about project, please contact: 
ANSÖKAN
Ansök snabbt genom att fylla i din e-post nedan och välj fortsätt.